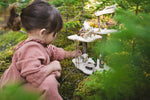 Making your own fairy garden is simple when you have the right supplies! And of course, we have our Fairy House Kit if you want to make it extra inviting for fairy friends ;) When our kids used the Fairy House Kit they added quite a few elements from around our house and yard; it's an ever-evolving project that they like to add and remove bits and pieces from, and change it with the seasons. Our girls left it outside where it has weathered significantly (it is definitely not weather-proof), but that has given it a certain charm and "lived-in" look. 
Consider incorporating these three elements to turn a neglected garden corner into an inviting fairy garden:
Pathways: creating meandering paths gives order and intention to the space, while defining areas and leading your eye to key elements. Consider using stones, mosses, seashells. 
The Rule of Three: setting up elements in triads creates a pleasing balance. Consider arranging your stones, bits of moss, or flowering plants in groups of three to create a balanced, but organic feel. 
Varying Heights: Have you heard of the "Filler, thriller and spiller" rule of planting pots? You should always have one plant to fill in the space (medium height), one that trails over the edge of the pot, and one that is an exciting, tall burst of color and texture. Use the same rule in your fairy garden to create visual interest.
Here are some ideas for natural elements to use in your fairy garden:
Stones of varying sizes (an average sized rock may look like a boulder in a fairy garden!)
Sea glass
Sand
Moss (harvest sustainably!)
Low growing ground covers (Sweet Alyssum, for example)
Driftwood
A

 

fairy house!
Not sure where to create your fairy garden? Anything can become a fairy garden! Consider these forgotten spaces to bring to life with a little fairy magic:
An old tree stump
A corner of a raised garden bed
Beneath taller garden plants such as tomatoes or flowering shrubs
An old wheelbarrow
A small pot
A bird bath
A corner of the flower garden
A half barrel
Have fun creating your fairy garden! And tag us if you post a picture; we'd love to see!