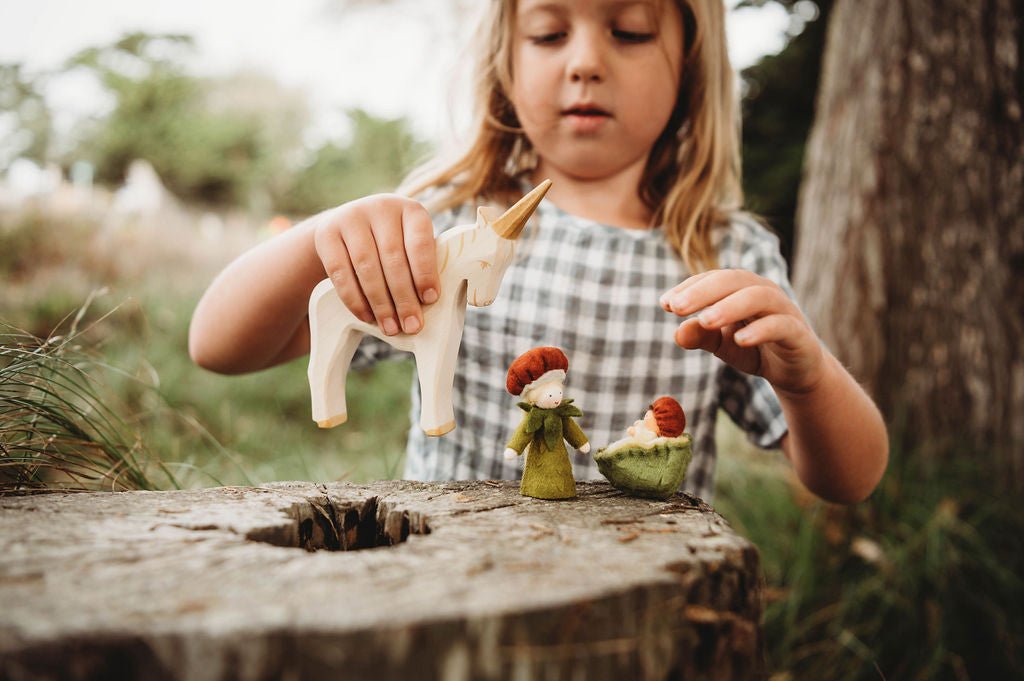 We aren't shy about touting how our open-ended toys are wonderful for engaging children and helping them develop their imagination. Most of us take it for granted that this is a "good thing." But what is so special about imagination? And why is it particularly important for children to nurture their imagination?
On a very basic level our imagination, coupled with our complex language skills is what sets humans apart from other animals. It is our ability to imagine things that are not in front of us, to tell stories, and create a narrative.
Likewise imagination is a critical component of a child's healthy development, shaping the way they grow, learn, and interact with the world around them. Here are the top 10 reasons why nurturing a child's imagination is crucial for their overall well-being:
1. Boosting cognitive development: Imagination helps children develop their problem-solving and reasoning skills. When they think creatively, they learn to come up with alternative solutions to challenges, paving the way for a strong cognitive foundation.
2. Enhancing emotional regulation: Imaginative play allows children to express and process their emotions, contributing to the development of emotional intelligence and healthy coping mechanisms.
3. Building social skills: Imagination fosters role-playing and perspective-taking. As children put themselves in others' shoes, they learn to understand other people's thoughts and feelings, which promotes empathy and cooperation.
4. Improving language development: During imaginative play, children practice and refine their language skills. They create narratives, invent new words, and engage in dialogues with others or imaginary companions, honing their linguistic abilities.
5. Fostering creativity and innovation: Imagination is the cornerstone of creativity, which is essential for innovation and adaptability in our ever-changing world.
6. Developing symbolic thinking: Imagination helps children understand and use symbols, such as words or objects, to represent ideas, thoughts, and feelings. This ability is crucial for later learning, such as reading and writing.
7. Shaping self-concept and identity: Through imaginative play, children explore different roles and identities. This exploration helps them develop a sense of self and understand their place in the world.
8. Strengthening memory and learning: Imagination can enhance memory and facilitate learning by helping children create mental images and associations. These mental constructs make information more meaningful and easier to retain.
9. Increasing motivation and engagement: Children are more motivated to learn and engage in activities when they can use their imagination and explore their interests. This sense of curiosity and wonder is vital for a lifelong love of learning.
10. Building resilience and coping skills: Imaginative play helps children develop resilience and coping skills. By providing a safe space to explore and practice dealing with challenging situations, children learn how to handle real-life difficulties more effectively.
Fostering imagination in children is essential for their healthy development. By providing opportunities for your child to engage in open-ended play, dramatic play, arts and crafts, and music, you will encourage and support their ability to use their imagination. This will give them a strong foundation of cognitive, emotional, social, and creative skills that will benefit them throughout their lives. So, let your child's imagination run wild and watch them grow into well-rounded, resilient individuals!