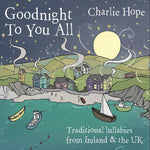 Charlie Hope releases her eighth album, Goodnight To You All: Traditional  Lullabies from Ireland and the UK, on to her label Little Maple Leaf Productions today! Inspired by her travels the album dives deep into the traditional sleepy tunes native to Ireland and the United Kingdom. For the third time, Charlie partnered with producer Dean Jones and together they bring these melodies alive with rich instrumentals, layered vocals, and wistful sound.

Children and their parents will fall in love with (and asleep to) the many classic lullabies that Charlie Hope so sweetly sings on Goodnight To You All. Honoring their long history, Charlie brings this collection of songs into the 21st century with her natural style and soothing vocals. While many of the songs are well known where they are from, Charlie chose to highlight music that is not often heard in North America and sings both Éiníní and Seothín Seo Hó in Irish Gaelic and Gille Beag Ò in Scottish Gaelic.

On her decision to record an album of primarily Celtic lullabies (with a few songs from England thrown in), Charlie shares, "since my first trip to Ireland in 2015, I slowly and surely became more drawn and enamored with the culture and music. I have traveled to Ireland close to 10 times now, each time, finding more to explore the next visit. The music is so ingrained in their culture, it's difficult to be there and not find inspiration! Though my grandparents were from the UK, Scotland in particular also has a rich musical culture. I grew up hearing stories of my grandfather who played the fiddle and sang in a barbershop quartet. Sometimes when traveling or experiencing a new spot locally, there's a spark or magic, as I like to put it, about a place. There's something about the rain, sun, greenery, and unpredictable weather that I've experienced in the highlands of Scotland and all through Ireland. As I mention in my album liner notes, it has felt like I've seen the spark of magic in Ireland and hope to share some of that through these songs."

Charlie Hope's previous albums have garnered international praise along with Canada's prestigious Juno Award. Charlene honed her singing skills while growing up in Toronto and Boston where she harmonized with her sister and in school choirs. Charlie's fresh approach to children's music stems from the many years she has spent with children, from receiving her degree in Art Therapy with Children to the preschools and private homes where she was a trusted caregiver. Charlie believes that music is vital to a child's overall well-being.
When not touring all corners of North America, Canadian singer-songwriter Charlie Hope resides in Seattle, Washington.