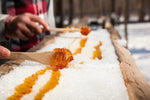 In winter's darkest days, here is a little taste of spring's hopeful sunshine, in the form of golden, maple syrup candy. Some call it Snow Taffy, or Sugar on Snow. It is simple, delicious and just a bit magical. The bold act of pouring molten syrup directly onto ice cold snow, fresh from the outdoors, feels primitive, a bit witchy and undeniably festive. Breath is held while golden syrup unfurls into oddly shaped, lumpy and stretchy, stick-to-your teeth sweet ribbons of candy. The simplicity of the recipe belies the immense amount of joy this simple tradition inspires.
Syrup on Snow Ingredients:
Real maple syrup
Snow*
Supplies:
Pot/saucepan
Candy thermometer
Wooden popsicle sticks (opt.)
Large bowl or tray to put snow in (opt.)
Before you begin, prepare the spot you will pour the syrup. Pack down an area outside as large as a cookie sheet or two. Alternatively, fill a large bowl, tray or cookie sheet with packed down snow if you'll be pouring the syrup inside. Consider setting it in the freezer while you boil the syrup. 
Use as much or as little syrup as your crowd dictates; 1/4 cup will get you three to five pieces. Do NOT use anything but 100% real, tapped from actual trees, maple syrup! This is crucial. Boil your syrup in a small saucepan until it reaches 235-240F. This is the soft ball candy stage; you can also test it by dropping a bit onto a plate. If you pass this stage you will simply create a crunchier, but still delicious candy. 
Once you've reached the proper temperature, carefully hurry to your prepared snow and drizzle the syrup in lines across the packed down snow. Quickly take a popsicle stick (or fork or clean twig) and press it onto one end of the drizzle, then twirl that goodness up like a piece of sweet spaghetti! You now have a delicious glob of maple syrup candy to devour! You can also pour individual, 1/4-1/2 teaspoon-sized balls of syrup into the snow to make small candies.
*Note: If you live somewhere without snow, you could still recreate the experience with a bowl or tray set inside a larger bowl or tray filled with ice. Set some parchment paper on the upper tray and pop the whole thing in the freezer while you boil the syrup. Maybe cut out some paper snowflakes to make it extra festive!